Alinco DR-CS10
Spesifikasi Alinco DR-CS10 Radio RIg dalam kemasan ultra ringkasnya dilengkapi dengan fitur teknologi tinggi. Pengoperasian DR-CS10 yang mudah dan lancar diwarisi dari seri peralatan radio Alinco yang populer seperti layar & mikrofon back-lit besar, audio transmisi / penerimaan yang sangat baik, memori 200ch, berbagai pemindaian, dan banyak lagi tanpa biaya tambahan.Radio Rig Alinco DR-CS10 60 Watt VHF 136 –  174 MHz 200 channel memory body tipis dan kecil cocok untuk penggunaan di mobil.
FITUR ALINCO DR-CS10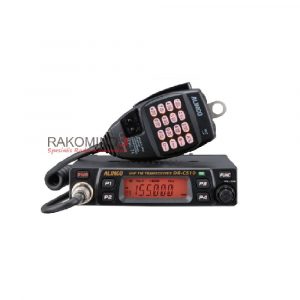 Output power selectable 60W / 25W / 10W
PC Programmable 200 CH
Alphanumerik name tags
Wide variety of selective calling features built-in; The 2-Tone, 5-Tone, 51 CTCSS, 1024 DCS, 4 Tone-burst tones and DTMF / ANI decode
Radio Stun / Kill / revive functions to protec your communication security
Large, bright LCD and Easy – to – operate backlit microphone keys
Multi-function microphpne enable direct frequensi entry & remote control
Various scan modes, Key Lock, Wide / Narrow operations and more
FITUR LAINNYA Alinco DR-CS10
Rentang Frekuensi: 136-174 MHz
Jumlah Saluran: 200 saluran
Tegangan Operasi: 13,8V DC ± 15%
Memadamkan: Pembawa / CTCSS / DCS / 5 Nada / 2 Nada / DTMF
Stabilitas Frekuensi: ± 2.5ppm
Suhu Operasi: -20ºC~+60ºC
Dimensi: kira-kira 145 (L) x 35 (T) x 180 (D) mm.
Berat: Kira-kira. 0,9 kg
Specification Alinco DR-CS10
GENERAL
Frequensi Range
136.000 – 173.9975 MHz
Number Of Channels
200 channels
Channel Spacing
25KHz (wide mode)
20KHz (middle mode)
12.5KHz (narrow mode)
Channel step
2.5 KHz, 5KHz, 6.25KHz, 8.33KHz, 10KHz,
12.5KHz, 15KHz, 20KHz, 30KHz, 50KHz
Operating Voltage
13,8V DC ±15%
Squelch
Carrier / CTCSS / DCS / 5 Tone / 2 Tone / DTMF
Frequency Stability
±2.5ppm
Operating Temperature
-20ºC~+60ºC
Dimensions
145 (W) x 35 (H) x 180 (D) mm approx.
Weight
Weight approx. 0.9 kg
RECEIVER
Wide Mode
Narrow Mode
Sensitivity (12 dB Sinad)
≤0.25μV
≤0.35μV
Adjacent Channel Selectivity
≥70dB
≥60dB
Inter Modulations
≥65dB
≥60dB
Spurious Rejection
≥70dB
≥70dB
Audio Response
+1~-3dB (0.3~3KHz)
+1~-3dB (0.3~2.55KHz)
Hum & Noise
≥45dB
≥40dB
Audio Distortion
≤5%
Audio Power Output
>2W@10%
TRANSMITTER
Wide Mode
Narrow Mode
Power Output
60W / 25W / 10W
Modulation
16KϕF3E
11KϕF3E
Adjacent Channel Power
≥70dB
≥60dB
Hum & Noise
≥40dB
≥36dB
Spurious Emission
≥60dB
≥60dB
Audio Respon
+1~-3dB (0.3~3KHz)
+1~-3dB (0.3~2.55KHz)
Audio Distortion
≤5%
Current Drain (Max)
10A (TX) / 0.6A (RX)
Paket standard:
Alinco DR-CS10
Bracket
Kabel DC/Power
Microphone.