Hytera PD568 UL-913 Explosion Proof
Spesifikasi Hytera PD568 UL-913 Explosion Proof adalah digital radio portabel yang dirancang dengan fitur keamanan khusus dan fleksibilitas untuk mendukung komunikasi digital dan analog. Radio ini dirancang untuk lingkungan kerja yang membutuhkan tingkat keamanan yang tinggi seperti industri manufaktur, perhotelan, dan acara-acara besar. Radio ini memenuhi standar intrinsically safe dan dirancang untuk menghindari risiko ledakan. Selain itu, radio ini juga dilengkapi dengan fitur-fitur seperti baterai tahan lama, enkripsi dasar, fitur-fitur sinyal canggih, dan kemampuan operasi dual mode (analog dan digital) yang memastikan migrasi yang lancar dari analog ke digital.
Handy Talky Hytera PD568 UL-913 Dual Mode – Analog & Digital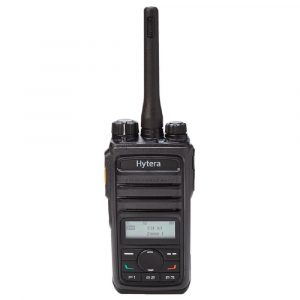 Radio digital portabel Hytera PD568 UL913 Intrinsically Safe memiliki fitur keamanan dan fleksibilitas yang mendukung komunikasi digital dan analog, ideal untuk lingkungan manufaktur, acara, dan perhotelan.
Kecil, Ringan, dan Elegan
Hytera PD568 UL-913
Ukuran radio ini adalah 115 x 54 x 27mm, dengan injeksi warna ganda, dan berat hanya 260g.
Daya Tahan Baterai yang Lama Pada mode digital, PD56X dapat digunakan selama minimal 16 jam dengan siklus tugas 5-5-90.
Tahan Lama dan Handal
Hytera PD568 UL-913
Radio ini sesuai dengan standar MIL-STD-810 C/D/E/F/G.
One Touch Call/Text Hytera PD568
Mendukung fitur One Touch yang terdiri dari Pesan Teks yang Diprogramkan Sebelumnya, Panggilan Suara, dan Fitur Tambahan.
Fitur Tambahan (opsional) Hytera PD568
PD56X dapat mendekode aktivasi radio, deaktivasi radio, dan pemantauan jarak jauh, serta gangguan prioritas.
Dual Mode (Analog & Digital)
Operasi dual mode (analog & digital) memastikan transisi analog ke digital yang lancar.
Komunikasi yang Aman
Menyediakan enkripsi digital dasar dan fitur Scrambler pada mode analog.
Sinyal Lanjutan
Mendukung beberapa mode sinyal analog canggih, termasuk HDC1200, 2-Tone dan 5-Tone, yang menyediakan integrasi yang lebih baik ke dalam armada radio analog yang ada.
Layanan Data DMRA Hytera PD568 UL-913
Protokol data sepenuhnya sesuai dengan standar DMRA.
Pseudo Trunk
Fitur trunking virtual ini mengalokasikan timeslot gratis untuk komunikasi yang mendesak. Ini meningkatkan efisiensi frekuensi secara efektif dan memungkinkan Anda berkomunikasi tepat waktu dalam situasi darurat.
DMO True 2-Slot Hytera PD568 UL-913
Pada mode DMO, Hytera dapat menyediakan komunikasi 2 slot, yang memungkinkan 2 jalur bicara pada 1 frekuensi.
Target Pasar
Ritel
Pusat perbelanjaan dengan tingkat kebisingan yang tinggi memerlukan radio dengan pengurangan kebisingan yang baik.
Pendidikan
PD56X memiliki ukuran yang kompak untuk penggunaan yang mudah dan mampu mencapai jarak komunikasi jauh di kampus sekolah atau universitas.
Keamanan
Diperkaya dengan beberapa jenis enkripsi, PD56X akan membuat komunikasi Anda lebih pribadi.
Gudang
Baterai yang tahan lama memungkinkan penggunaan selama satu shift penuh tanpa perlu pengisian ulang.
Hotel
Lalu lintas komunikasi yang padat memerlukan penggunaan sumber daya frekuensi yang lebih efektif.
Sewa
Fungsi sewa diperlukan untuk industri sewa.
SPESIFIKASI
Hytera PD568 UL-913 Explosion Proof
General
Frequency Range
UHF: 350-400 MHz, 400-440MHz , VHF: 136-174MHz
Channel Capacity
512
Channel Spacing
25/20/12.5KHz
Zone Capacity
32
Operating Voltage
7.4V (rated)
Battery (5-5-90 Duty Cycle, High TX Power)
1500mAh (Li-Ion)/2000mAh
Battery Life (5/5/90 )
Analog: about 11 Hours Digital: about 16 Hours
Frequency Stability
±0.5ppm
Antenna Impedance
50 Ohms
Dimensions
115 x 54 x 30mm
Weight
280g
Transmitter
RF Power Output
VHF High power: 5W VHF Low power: 1W UHF High power: 4W UHF Low power: 1W
FM Modulation
11K0F3E @ 12.5KHz 14K0F3E @ 20KHz 16K0F3E @ 25KHz
4FSK Digital Modulation
12.5kHz Data Only: 7K60FXD 12.5kHz Data & Voice: 7K60FXW
Conducted/Radiated Emission
-36dBm1GHz
Modulation Limiting
±2.5KHz @ 12.5KHz ±4.0KHz @ 20KHz ±5.0KHz @ 25KHz
FM Noise
40dB @ 12.5KHz 43dB @ 20KHz 45dB @ 25KHz
Adjacent Channel Power
60dB @ 12.5KHz 70dB @ 20/25KHz
Audio Response
+1 ~ -3dB
Audio Distortion
<= 3%
Digital Vocoder Type
AMBE++ or SELP
Digital Protocol
ETSI-TS102 361-1,-2,-3
Receiver
Sensitivity
Analog
0.22µV (12dB SINAD) 0.22µV (Typical) (12dB SINAD) 0.4µV (20dB SINAD)
Digital
0.22µV /BER5%

Adjacent Selectivity

TIA-603

ETSI

60dB @ 12.5KHz / 70dB @ 20&25KHz

60dB @ 12.5KHz / 70dB @ 20&25KHz

Spurious Response Rejection

TIA-603

ETSI

70dB @ 12.5/20/25KHz

70dB @ 12.5/20/25KHz

Inter-modulation

TIA-603

ETSI

70dB @ 12.5/20/25KHz

65dB @ 12.5/20/25KHz

Hum & Noise
40dB @ 12.5KHz 43dB @ 20KHz 45dB @ 25KHz
Rated Audio Power Output
0.5W
Rated Audio Distortion
<=3%
Audio Response
+1 ~ -3dB
Conducted Spurious Emission
< -57dBm
Environmental Specifications
ESD
IEC 61000-4-2 (level 4) ±8kV (contact) ±15kV (air)
Dust & Water Intrusion

Intrisically Safe

IP54 Standard

YES

Humidity
Per MIL-STD-810 C/D/E/F/G Standard
Shock & Vibration
Per MIL-STD-810 C/D/E/F/G Standard
PD56X, X=0, 2, 5,6 or 8, model number varies geographically. For details, please contact our regional sales representatives. All specifications are subject to change without notice due to continuous development.