Mag One PMLN6542 Commercial series behind-the-head-style receiver with boom microphone and in-line PTT switch
Mag One PMLN6542, Earpiece/Handsfree adalah sebuah receiver yang dirancang untuk digunakan dengan radio dua arah Motorola. Receiver ini memiliki gaya belakang-ke-kepala dan dilengkapi dengan Microphone boom dan sakelar push-to-talk (PTT) in-line yang mudah digunakan. Didesain untuk lingkungan komunikasi yang intensif, receiver ini memberikan kualitas audio yang tinggi dan mudah digunakan, sehingga cocok untuk digunakan oleh personel di lingkungan kerja yang memerlukan interaksi dengan pelanggan sambil menjaga komunikasi radio.
Receiver ini memiliki desain yang ringan dan nyaman dipakai dalam jangka waktu yang lama, sehingga cocok untuk digunakan dalam lingkungan kerja yang memerlukan mobilitas tinggi. Receiver Motorola PMLN6542 adalah solusi yang andal dan efektif untuk komunikasi dua arah di berbagai lingkungan kerja, seperti di perusahaan keamanan, pertambangan, atau perusahaan konstruksi.
Headset Mag One ultra-ringan dioptimalkan untuk lingkungan komunikasi intensif di mana personel perlu berinteraksi dengan pelanggan sambil menjaga komunikasi radio. Pilih dari earhook, behind-the-head, atau gaya headset over-the-head. Semua menyediakan audio berkualitas tinggi, fungsi yang mudah digunakan, dan kenyamanan sepanjang hari.
FITUR
Gaya Belakang-ke-Kepala: Receiver ini dirancang dengan gaya belakang-ke-kepala yang nyaman dipakai dalam jangka waktu yang lama.
Mikrofon Boom: Dilengkapi dengan mikrofon boom yang memberikan kualitas audio yang sangat baik.
Sakelar Push-to-Talk (PTT) In-Line: Memudahkan penggunaan tombol PTT. Sehingga pengguna dapat dengan mudah mengirim dan menerima pesan tanpa harus melepaskan receiver.
Desain Ultra-Ringan: Mag One PMLN6542 dirancang untuk memiliki desain yang ultra-ringan sehingga nyaman digunakan dalam jangka waktu yang lama.
Kompatibilitas dengan Radio Motorola: Receiver ini kompatibel dengan berbagai jenis radio dua arah Motorola. Sehingga dapat digunakan bersama dengan radio Motorola yang Anda miliki.
Audio Inteligent: Fitur audio inteligen memungkinkan receiver untuk secara otomatis menyesuaikan volume suara. Saat pengguna beralih dari lingkungan yang bising ke lingkungan yang lebih tenang, sehingga pengguna tetap dapat mendengarkan suara dengan jelas.
Kualitas Audio yang Tinggi: Mag One PMLN6542 menyediakan kualitas audio yang tinggi untuk komunikasi yang jelas dan mudah dipahami.
Performance Characteristics
Voice Activation (VOX)
Yes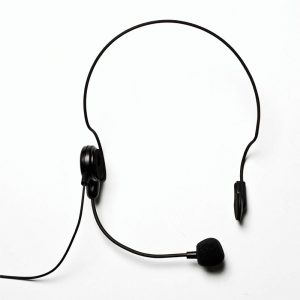 Push-to-talk (PTT)
In-Line
Bluetooth-Capable
No
Receive method
Single-Ear
Microphone
Boom Mic
IMPRES Audio
Core
Physical Characteristics
Transmit via
Single-Ear
Colour
Black
Configuration
Behind-the-Head
Connector Type
Connects directly to radio
SPESIFIKASI
| FITUR | KETERANGAN |
| --- | --- |
| HEADSET TYPE | Behind-the-Head |
| EARPIECE STYLE | Single-Ear |
| IMPRES | No |
| INTELLIGENT AUDIO | Yes |
| NOISE REDUCTION RATING | No |
| MICROPHONE | Boom |
| PTT | In-Line |
| WEIGHT | Ultra Lightweight |
| INTRINSIC SAFETY RATING | No |